Belle Tout Lighthouse Media
Belle Tout Lighthouse in the media
The Belle Tout Lighthouse is a remarkable building and attracts a lot of attention, for obvious reasons. Few buildings can boast such an interesting and mixed history as Belle Tout. Not to mention the awe inspiring location, breathtaking views and sumptuous luxury that this unique bed and breakfast offers.
We'll add more in due course.
Red Magazine - August 2011

(PDF 371KB - Click to open in a new window)
International Lifestyle Magazine -
Read the latest version of the International Lifestyle magazine online
Visit to Belle Tout by BBC Radio 4 - July 2011
Belle Tout was extremely pleased recently to welcome the veteran presenter and broadcaster Sandi Toksvig. Sandi arrived on behalf of the BBC, for a recording for the Radio 4 travel programme Excess Baggage. The programme was transmitted on Saturday September 3rd at 10.30am.
Sandi was accompanied by her producer Harry Parker and Vron Groocock a Radio 4 listener. Vron had written in to "Excess Baggage" to suggest Sandi might like to travel on the 13x bus route from Brighton to Eastbourne and feature the journey in one of her programmes on listener's favourite bus journeys. Sandi thought it to be a good idea which is how the visit came about.
Sandi and her colleagues were met off the bus at the bottom of the private road to Belle Tout by myself and driven to Belle Tout where they were introduced to the owner David Shaw and Rob Wassell founder member of the Belle Tout trust association.
The recording time was then planned out between Sandi and Harry and the microphone started rolling with an introduction piece in the car park before everyone moved into the Belle Tout building.
Settled in the lantern room with its commanding views, Sandi sat in between David and Rob and asked questions about the history of the lighthouse.
Rob read from his new book, which tells the story of the lighthouse and David explained more about his reasons for buying it and the project of renovating it.
I ensured the team had everything they needed and served a tasty lunch as prepared earlier by Ian, our chef.
Sandi kept us entertained with funny stories and had us all in stitches with her wonderful sense of humour, before doing us the pleasure of having her photo taken with us.
The teams' visit to Belle Tout was longer than expected due to the spectacular views and relaxing ambience of the lantern room - they just didn't want to leave.
With the last bus due, Sandi, Harry and Vron, had one final tour of the lighthouse, before walking off down the coastal path to the bus stop at the bottom of the hill.
However, just before she left, Sandi very kindly obliged us by making the following entry in our visitor's book:
Came on behalf of the BBC but wanted to stay for myself. Glorious place, splendid company. Thank you Dave, Phil, Rob.
It was such a nice experience and one that we'll remember for some time to come.
Phil Kenny (Manager) and Rob Wassell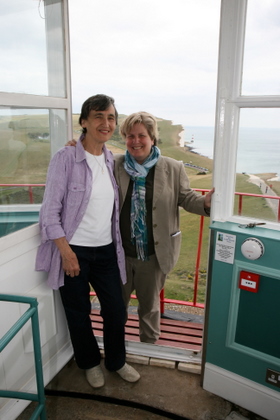 More photos can be found in Rob's Flickr group:
Sandi Toksvig at the Belle Tout Lighthouse
To find out more about Excess Baggage, please visit the Radio 4 website for more information and to listen online.
Using Belle Tout in the Media
If you would like to feature the Belle Tout Lighthouse in any media publication, please confirm with us in the first instance.
Photographs of The Belle Tout Lighthouse
Rob Wassell has made an extensive library of photographs available of Belle Tout and Beachy Head which are on Flickr.
You can contact Rob via his website at https://www.robwassell.com.
"A magical place, didn't want to leave"
Check availability
You can check availability using our on-line room availability calendar. When you've found the date and decided what room you would like to book, get in touch to make your booking.
Or call us today on 01323 423 185.
One night stays
We operate a minimum two night stay policy, however, providing there is availability, one night stays may be available within a week of the proposed date of stay.
Contact us a week before to check.
Booking in advance
To avoid disappointment for anniversaries, birthday and honeymoon celebrations, we recommend you book well in advance. We are taking bookings for this year and next year so please book as early as you can.