Your stay at the Belle Tout Lighthouse wouldn't be complete without a delicious breakfast - hand prepared by our experienced chef by using only the finest local ingredients.
The Belle Tout Breakfast Menu
A selection of juices, cereals, dried fruits,
croissants, yoghurts and fresh fruit salad.
---
 Belle Tout Breakfast
Our 'traditional breakfast' offers free range eggs of your choice (fried, scrambled, poached or hard boiled), Sussex smoked back bacon, handmade prime pork & herb sausage, grilled tomatoes, mixed mushrooms, and a ramakin of baked beans.
Each day we offer a 'Daily Special' option.
Woodland Muffin
Eggs Viking
Eggs Benedict
Tout's Florentine
---
Side Orders
White or brown toast and croissants, all with butter or
low fat spread. Plus a choice of jams, marmalade
and honey. Marmite and chocolate spread also available.
---
Beverage
A selection of speciality teas, cafetiere of freshly
ground coffee or decaffinated coffee.
If you have any special dietary requirements,
please let us know and we will do our best to
accommodate your requirements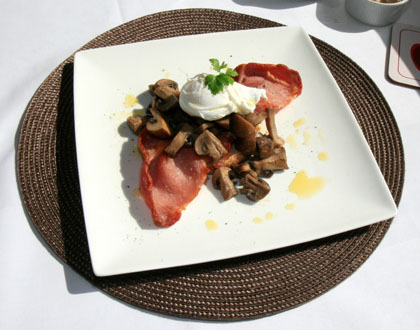 Woodland Muffin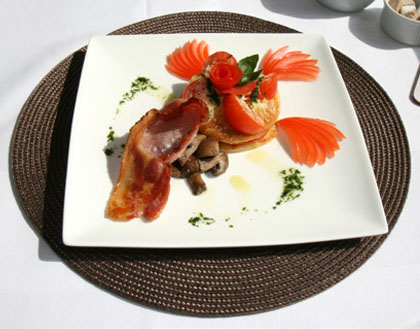 Tuscan Toast
Eggs Viking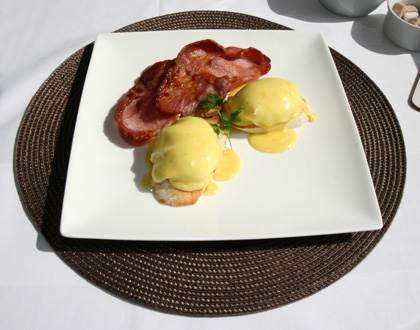 Eggs Benedict
Full English
Tout's Florentine
Black Granite Tower
Ian the Belle Tout Chef
View of Beachy Head Lighthouse
"Stunning views & superb breakfast"
Check availability
You can check availability using our on-line room availability calendar. When you've found the date and decided what room you would like to book, get in touch to make your booking.
Or call us today on 01323 423 185.
One night stays
We operate a minimum two night stay policy, however, providing there is availability, one night stays may be available within a week of the proposed date of stay.
Contact us a week before to check.
Booking in advance
To avoid disappointment for anniversaries, birthday and honeymoon celebrations, we recommend you book well in advance. We are taking bookings for this year and next year so please book as early as you can.