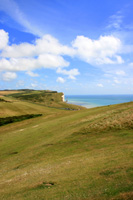 Beachy Head is a prominent chalk headland located between Eastbourne and Birling
The cliff at Beachy Head is the highest chalk sea cliff in Britain, rising to 530 feet (162 metres) at its highest point above sea level.Gap on the south coast of England.
The chalk of the cliffs was formed over a period of 30 million years when a warm sub tropical sea covered the area, between 95 to 65 million years ago.
The shells of billions of microscopic planktonic algae formed a deposit which eventually hardened into layers of white rock a thousand feet thick. This has since been uplifted due to continental movement and subsequent erosion has created the Downs seen today.
The name Beachy Head is a corruption of the original French words 'Beauchef' from 1274 and 'Beaucheif' from 1317 meaning 'beautiful headland'. The name Beachy Head appears to have been consistently used from 1724.
Beachy Head is an area of outstanding natural beauty and is considered to be one of the most beautiful locations in the entire UK.
Due to the dangerous rocks off the headland campaigns for a lighthouse date back to 1691 when petitions were raised due to sailors losing their lives.
Eventually it was agreed that a lighthouse could be built on the peak known as Belle Tout, from where the lighthouse was to take its name.
Belle Tout lighthouse was in some ways successful but was short lived due to fog and coastal erosion. The old lighthouse was decommissioned in 1902 when the new lighthouse at the base of the cliffs came into operation.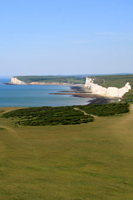 The new lighthouse became fully automated in 1983 and is monitored from the Trinity House Operations Control Centre in Harwich in Essex, 24 hours a day.
Beachy Head is a popular location for filming and such films as Quadrophenia and The Living Daylights have been filmed here as well as the BBC owning Belle Tout for a while where The Life and Loves of a She Devil were filmed.
For more information on the history of Belle Tout click here.
"A magical place, didn't want to leave"
Check availability
You can check availability using our on-line room availability calendar. When you've found the date and decided what room you would like to book, get in touch to make your booking.
Or call us today on 01323 423 185.
One night stays
We operate a minimum two night stay policy, however, providing there is availability, one night stays may be available within a week of the proposed date of stay.
Contact us a week before to check.
Booking in advance
To avoid disappointment for anniversaries, birthday and honeymoon celebrations, we recommend you book well in advance. We are taking bookings for this year and next year so please book as early as you can.