The Story of the Belle Tout Lighthouse
Belle Tout has a fascinating history, from our Neolithic ancestors and Roman farming, through to the brave acts of Parson Darby and "Mad Jack" Fuller's influence that led to the first temporary lighthouse being built. The Belle Tout lighthouse was built in 1832 and decommissioned in 1902, it has been a tea-shop, a home, partly destroyed during the second world war and lovingly rebuilt in the 50's. Owned and filmed by the BBC, moved due to erosion – and now, Belle Tout has been beautifully renovated and refurbished.
This is the first book of its kind to be written specifically about the Belle Tout Lighthouse and includes rarely seen pictures and facts that many people will not be aware of.
The book is printed in full colour A5 format, with 44 pages and 99 pictures. It's an interesting and captivating tale of one of Britain's most unique buildings.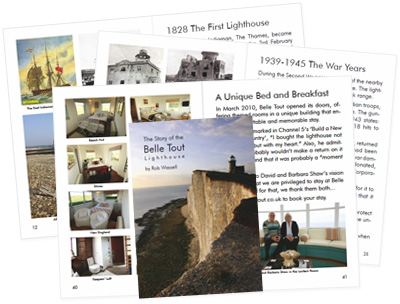 The Story of the Belle Tout Lighthouse
by Rob Wassell
44 Pages, A5 format, Full Colour (including 99 Pictures Colour and B&W)
The Story of the Belle Tout Lighthouse Book – £7.95
Book with Rob Wassell's autograph – £8.95
Autographed by the author, Rob Wassell
Book with a personalised autograph by Rob Wassell – £9.95
Please state personalised message at checkout
Orders will be processed by Rob Wassell directly
Please allow 14 days for delivery.
The book is also in stock at the Belle Tout Lighthouse itself and
will shortly be available from local visitor centres in and around Beachy Head.